Dr. Hans Riegel Academy at MPIPZ
 
A group of former Dr. Hans Riegel Award winners visited the MPIPZ on 23 September. An opportunity for the future scientists to look behind the scenes of our institute.
The aim of the Dr. Hans Riegel Foundation is the support of STEM among school students. In the form of a competition, pre-scientific work by pupils who are about to take their school-leaving exams is awarded. These Dr. Hans Riegel prizes are awarded by German universities in cooperation with the Dr. Hans Riegel Foundation.
Even after they have received the award, further opportunities for support are open to the young scientists. Among others, the Dr. Hans Riegel Academy invites the young talents to take part in excursions to scientific institutions.
The half-day excursion at the MPIPZ started with an exciting insight into plant research by Director Paul Schulze-Lefert. This was followed by further scientific lectures by our PhD students and postdocs on flowering times of plants and the diversity of leaf shapes, followed by a tour of the institute and a visit to our greenhouses.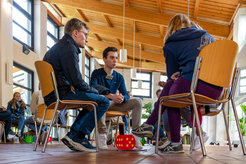 Finally, all participants had the opportunity to exchange ideas with our scientists in the form of a speed-dating session. We experienced lively discussions on the research conducted at MPIPZ and the possibilities of joining our graduate school.
A successful, interactive and exciting day for everyone.