The Estate Vogelsang
The Max Planck Institute for Plant Breeding Research is more than just the area inside the institute fence. It is surrounded by agricultural land which also belongs to the institute - the estate Vogelsang estate.
The history of the estate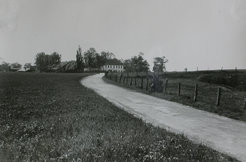 The estate Vogelsang has a long tradition. Its roots probably go back to the time of the ancient Romans. In 1989, employees of the Roman-Germanic Museum of the City of Cologne, as the office for the preservation of biodiversity, discovered a Roman private bath on a plot of land near the estate, which obviously belonged to a Roman villa rustica as a wing building. The site, which was partially uncovered, was provisionally covered over and designated as an archaeological monument.
The estate was first mentioned in a document in 1100 and was originally owned by the monastery of St. Andrew in Cologne.
The land for scientific field trials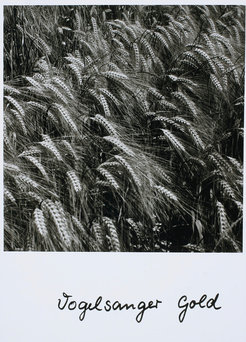 One of the reasons why the former Max Planck Institute for Plant Breeding moved from Lower Saxony to North Rhine-Westphalia in 1955 was the possibility of leasing the Vogelsang estate from the city of Cologne, including all the land, so that it could also be used for field trials.
In earlier times of the institute, many breeding and application trials were carried out in the field on fruit, vegetables, forage plants and cereals (barley variety Vogelsanger Gold). With the reorientation towards basic molecular research and the renaming to Max Planck Institute for Plant Breeding Research, the outdoor experiments became less and less and with emerging resistance in the population against genetic engineering, these were fully moved to the greenhouses.
Today, Gut Vogelsang is a Rhenish arable farm with a very low proportion of field trials.
The estate today
The Vogelsang estate comprises 140 hectares of leased land on prime loess soils with high yield potential.
These are divided as follows: 25 ha of winter wheat, 25 ha of sugar beets, 25 ha of silage maize, 25 ha of winter barley and 25 ha of winter rape as sales crops, which are used to finance the management of the farm. The remaining areas are 6 ha of flowering strips and areas, 3 ha of forest (under nature conservation), 3 ha of show garden, orchards and experimental areas, 2 ha of grassland and the yard area.
Gut Vogelsang has had a farm cooperation with two other farms from Widdersdorf for 30 years. The 470 hectares of cooperative land are farmed with jointly purchased machinery by an employed farm manager from one of the cooperative farms and the estate manager of Gut Vogelsang in consultation.
In his role as estate manager, Martin Krist acts as a link to regional administration and politics and is involved in many agricultural associations and the institute's public relations work.