Plant research discussed in MPIPZ science barn
Successful start of public talk series at MPIPZ science barn
 
For the joint event of the Max-Planck institute for plant breeding research and Food-Security from the University of Cologne "What's on tomorrow's plate?" the MPIPZ warmly welcomed the public to explore our beautiful show garden and captivating science barn.
Wolfgang Schuchert from the MPIPZ, led an informing tour of our show garden, where he explained on the unique characteristics of loess soil and showcased the diverse array of crops flourishing within our garden. Following the tour, our guests were welcomed into our science barn, where our researchers from the MPIPZ and the University of Cologne shared insights into ongoing plant research.
Isabelle Metzen, from the University of Cologne explained the fundamental requirements for plant growth and achieving high yields. Considering climate change, the diminishing availability of resources like water and nutrients has become a pressing concern, placing plant research at the forefront of efforts to address this challenge.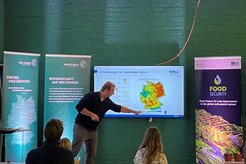 In our second presentation, Sergius Weizel, researcher at the MPIPZ, explained the impact of climate change on our food crops. Specifically, he highlighted the significance of genetic diversity in maize. Scientists are harnessing this diversity to gain insights into maize's adaptability. Such adaptability to shifting environmental conditions has a beneficial impact on both growth and yields.
Over refreshing drinks and freshly harvested apples from old varieties of apples from our show garden, our scientists along with Martin Krist, the farmer and estate manager of Gut Volgelsang, carried on with their lively discussion about the demands and obstacles within plant research and the broader issue of global food security.
"We were delighted with the success of our first collaborative public event together with Food Security. It's truly inspiring to witness scientists and the audience converging to engage in meaningful discussions about the various societal challenges we face today, and the ways in which plant science can play a pivotal role in finding solutions." Mia von Scheven
We are looking forward to continuing with this new collaborative format to create a platform where plant scientists and the broader public can interact and connect.