Insights into plant science for Jugend forscht Alumni
Jugend forscht is Germany's best-known competition for young scientists in the field of STEM education.
The 'Jugend forscht PerspektivTag' enables the exchange and support of former Jugend forscht participants. An exclusive day for master students and doctoral candidates to gain insights into professional perspectives and research institutions.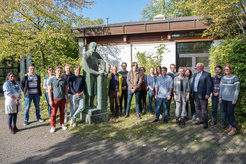 We were delighted to welcome a group of highly motivated students with a thirst for knowledge to the PerspektivTag "Fascination Plant Sciences" at the MPIPZ on 30 September 2022.
At the event, which was organised jointly with the Jugend forscht e. V. foundation, the alumni had the opportunity to learn about our interdisciplinary research and career prospects on site and at first hand.
After the official welcome by Director Raphaël Mercier, our scientific programme started. Talks by our PhD students and postdocs from the departments "Plant Developmental Biology" and "Comparative Development and Genetics" provided our guests with an understanding of our research on flowering times and leaf shape diversity. Afterwards, our speakers illustrated their research on the respective plant model in the greenhouse. An opportunity for a 'hands-on' activity for everyone. A short excursion to the laboratories rounded off the look behind the scenes at the MPIPZ.
At the end of the day, our scientists answered the alumni's individual questions in a speed dating session and provided information about the Max Planck Society's graduate programme and the Institute as an employer.
"It is of particular interest to us to promote young STEM talents beyond their participation in the Jugend forscht competition," says Dr. Sven Baszio, Executive Director of the Jugend forscht e. V. foundation. "They enable our alumni to exchange ideas directly with experts. This personal contact and the exclusive insights behind the scenes of well-known institutions can help them find out whether a scientific career - perhaps even at a Max Planck Institute - suits them, and in this way support them in their career decision-making."
We were excited and impressed by the motivation and thirst for knowledge of our visitors. Lively discussions accompanied the entire day - a successful 'PerspektivTag', thanks to the active participation of our MPIPZ scientists.