The greenhouse as its best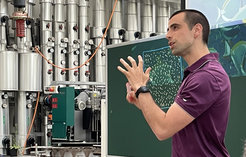 As part of the cologne initiative "Wissenschaft in Kölner Häusern" (science in houses of Cologne), in which science is presented in unusual places, MPIPZ joined in with a public talk on 'communication - crucial for survival'.
Dr Nicholas Russell, trained mathematician and postdoc at MPIPZ, celebrated mathematical laws and algorithms within the walls of our greenhouse, the heart of every plant research institute.
Listening to plant research while being surrounded by plants as the main actor of this research was a fascinating and delightful experience for our audience.
Nicholas gave a fantastic overview on how birds, fish and plant cells are able to communicate with each other in order to act upon. He took the audience throughout a journey of understanding the value of mathematical and physical equations within research.
The talk was equally professional as well as entertaining, accompanied with Nicholas' enthusiasm and motivation for his research, followed by a lively discussion.
A guided tour on the MPIPZ campus and the greenhouse gave the audience further insights to our research and life on campus.
A great experience for everyone involved and a truly wonderful place to be for such a great presentation.