Members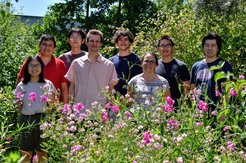 Ruben Garrido-Oter
Group leader
Google scholar
Ruben comes from Spain. He studied computer sciences and mathematics in Madrid and Berlin. He obtained his PhD in computational biology from the university of Dusseldorf in 2017. Since January 2017 he is a Group Leader at the MPIPZ. He is interesting in studying complex microbial ecosystems using computational and experimental approaches.
Jia comes from China, where he studied plant sciences and biotechnology with a minor in applied mathematics at the Jia Tong University of Shanghai. During his doctorate studies at the University of Manchester he used mathematical models to understand how plant cells make fate decisions under endoplasmic reticulum stress. His current project consists on designing and modelling the behaviour of synthetic phototrophic ecosystems using the model alga Chlamydomonas reinhardtii.
José Flores-Uribe
Postdoc
José comes from Mexico and joined the lab in 2018. During his doctoral studies at the Technion - Israel Institute of Technology at Oded's Beja Lab he analyzed hundreds of metagenomes looking for viruses and interesting proteins. Now at the RGO group his research deals with the relationships within microalgae-bacterial communities, combining -omics and the expertise of the PSL department for microbiome-host interactions.
Paloma comes from Spain and studied Biology at the University of Salamanca. During her PhD at the MPIPZ, she studied the multikingdom microbial communities associated with plant roots in nature and the impact of microbial interactions on plant health. She joined the RGO lab in August 2018 and will now investigate the microbiota composition and interactions at the phycosphere of the model microalgae Chlamydomonas reinhardtii using natural soils and gnotobiotic systems.
Rui comes from China and joined the lab in 2017. She studied plant and animal genomics during her joint master at the Southeast University and the Beijing Genomics Institute. Her project is focuses in the development of methods for analysis of microbial communities using higher-order features such as networks.
Eik comes from Germany and studied computer sciences at the university of Dusseldorf. He joined the lab in 2018 where he works on methods to perform comparative analyses (e.g. de novo orthology prediction) of very large genomic datasets.
Pengfan Zhang
Master student
Pengfan comes from China, where he studied genomics at BGI and the University of Chinese Academy of Sciences in Beijing. His current research focuses on the development of computational tools for the analysis of sequencing data from synthetic communities and ecosystems.