Offene Gartenpforte Rheinland / Open Showgarden
Offene Gartenpforte Rheinland
Date:

Sep 19, 2021

Time:

01:00 PM - 05:00 PM (Local Time Germany)

Location:

WissenschaftsScheune

Room:

Schaugarten

Host:

PR - WiS

Contact:

pr@mpipz.mpg.de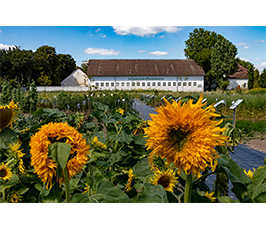 Im Rahmen der Aktion "Offene Gartenpforte Rheinland 2021" kann der Schaugarten unserer WissenschaftsScheune am 19. September zwischen 13:00 Uhr und 17:00 Uhr besichtigt werden. Gerne beantworten wir Ihre Fragen und bieten Führungen an.
Eintritt kostenlos. Wir freuen uns auf Ihren Besuch!
As part of the "Offene Gartenpforte Rheinland 2021" you are invited to visit the show garden of our science barn on 19th September, between 1 pm and 5 pm. We are happy to answer any questions and to offer guided tours.
Admission free of charge. We are looking forward to your visit!