Rachita Srivastava
PhD Student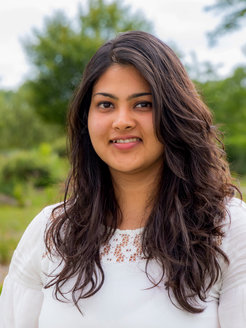 What fascinates you most about plant science?
Plants arrived on the face of the earth way before humans. Additionally, despite being sessile, many species of plants have evolved through extreme climatic conditions for years. This to me is extremely astounding and is what fascinates me the most.
Tell us briefly what scientific questions you are pursuing at MPIPZ .
I am trying to understand where in the world did the plant of our interest (Cardamine hirsuta) originate and when did it start spreading to other parts of the world. In addition to this, I am also interested in understanding which climatic/tectonic events in the past could have shaped the spread of this plant across the world.
Who has inspired you greatly in your career so far?
Kiran Mazumdar-Shaw, founder of Biocon Ltd. has been my inspiration from very early on in my career. Her journey of establishing a billion-dollar company from a startup initiated in her garage astonishes me the most. I am truly inspired by her belief in 'affordable innovation'.
What did you find most challenging in your career so far?
Having moved thousands of kilometers away from my home country to have access to better facilities and more expertise in the field of my interest, and knowing that frequent relocation to a new city/country every few years would be a constant part of my scientific career has been the most challenging part.
How do you see your future in science and why?
I see myself contributing actively to the field of computational science either as a researcher in a research institute or in the industry in the near future. With more and more accumulation of big data, there are millions of questions one could ask and try to get answers to, only using computers. I would like to contribute in my complete capacity to raise and answer such questions in the future.