Neha Bhatia
Postdoc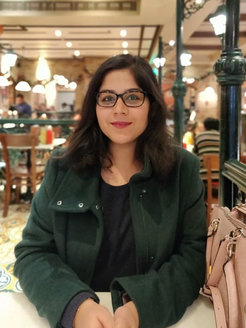 What fascinates you most about plant science?
Plants are building blocks of life on earth. Despite being sessile, they have engineered such precise and elegant mechanisms to sustain themselves, be it seed dispersal, recruiting pollinators or adapting to their surroundings. But if it's one thing- I would say their diverse forms, shapes and patterns. These forms are not just aesthetically appealing but also help us understand how life around us arises at multiple scales ranging from cells to organisms.
Tell us briefly what scientific questions you are pursuing at MPIPZ.
Plant leaves show diverse leaf shapes ranging from simple such as a spinach leaf, lobed like a rucola leaf or more complex like a carrot leaf. I am investigating the growth patterns underlying leaf shape development and diversity that we see around us.
What/who has inspired you greatly in your career so far?
Late Dr. Janaki Ammal is one of the eminent scientists whose work and journey has inspired me a lot. She was the first Indian woman to be awarded a PhD in botany at a time (1931) when most Indian women didn't make it past high school. I have read that during 1940-1945 when she was in the UK, amid World War II, she would hide under her bed during the night bombings and continue with the research work in the morning after cleaning the broken glass off the shelves. What dedication!! There is even a flower named after her Magnolia Kobus Janaki Ammal. Her dedication for science and environment, especially plant science, in a strong patriarchal society at that time, while maintaining a grounded wonderful personality is the most remarkable thing that inspires me.
What do/did you find most challenging in your career so far?
I think there are two major challenges. First is thinking the unthinkable and asking the right questions. Second is to be consistently asking the right questions.
How do you see your future in science and why?
I am very passionate about understanding plant development and so would like to continue my research in this very fundamental field as an independent principal investigator. I would like to make contributions that can be included in the text books that would hopefully fascinate and inspire students. I think that is the biggest reward.