Emmy Noether funding granted for Isabel Saur
 
Isabel Saur, former postdoc in the Schulze-Lefert group has been granted a DFG Emmy Noether group leader position.
The Emmy Noether Programme, funded by the DFG, gives exceptionally qualified early career researchers the opportunity to lead an independent junior group for a period of six years.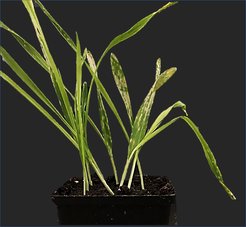 Isabel started her work on molecular plant microbe interaction while being at the MPIPZ, focusing on the powdery mildew fungus Blumeria graminis affecting barley (Hordeum vulgare), before establishing her own research group at the University of Cologne and CEPLAS on this topic.
The appearance of powdery mildew reminiscent of flour, as it looks like a whitish, fungal mesh on the leaf surface. The fungus penetrates the cells of the leave cells and extracts valuable nutrients.
Worldwide, barley is one of the most important agricultural crop and powdery mildew causes severe economic damage, underlining the importance of the studies.
"It was a very successful time at the MPIPZ, in which many different areas of expertise joined forces to make a real step forward in an experimentally challenging field."
It is now possible for Isabel and her team, to identify and explore the factors and processes within barley cells, which get manipulated by powdery mildew in order to infect and harm the crop plant.
At the Institute of Plant Sciences, UoC and CEPLAS, which both focus on plant-microbe interaction, Isabel is in perfect hands for these new tasks.