Professor Wolf B. Frommer selected for an Alexander von Humboldt-Professorship
The plant molecular biologist Wolf B. Frommer (58) from Stanford University, USA, was nominated by Heinrich Heine University Düsseldorf together with the Forschungszentrum Jülich and the Max Planck Institute for Plant Breeding Research in Cologne.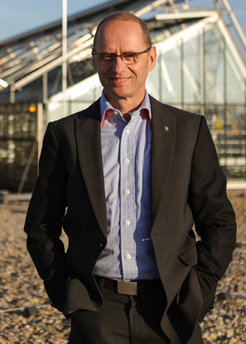 Professor Dr Wolf B. Frommer, born in Germany in 1958, is a Professor in the Department of Plant Biology at Stanford University, USA, where he was also the Director of the Carnegie Institution for Science until the beginning of 2016.
How transport proteins operate in plants and what medicine can learn from them
In order to absorb nutrients and carry them through the membranes in their cells, plants use transport proteins. Understanding them is one of the keys to increasing yields and finding new fertilisers. One of the leading experts in this area is the plant biologist, Wolf B. Frommer. He investigates different transport mechanisms, such as the so-called SWEET proteins, which channel glucose through the membranes. This mechanism operates very similarly in animal and human cells, too. Frommer's work is thus also relevant to medical applications such as understanding metabolic processes in cancer cells. Together with non-university partners in Jülich and Cologne, Heinrich Heine University Düsseldorf would like to apply Frommer's expertise to continue developing the CEPLAS Cluster of Excellence on Plant Sciences into a cutting-edge research location for molecular botany.
The Alexander von Humboldt Professorship comes with up to €5 million in funding for each recipient. It is awarded to internationally leading researchers from all disciplines who are currently working abroad. The Alexander von Humboldt Professorship aims to put them in a position to conduct cutting-edge research at German universities on a long-term basis. The award money is earmarked for their first five years of research in Germany. The Alexander von Humboldt Professorship is awarded by the Alexander von Humboldt Foundation and financed by the Federal Ministry of Education and Research.
The newly selected award winners were chosen from a total of ten nominees from Denmark, France, Great Britain, New Zealand, the Netherlands and the USA. The winners will now enter into appointment negotiations with the universities that nominated them for the award. Those who accept the Humboldt Professorship will receive the award in May 2017.